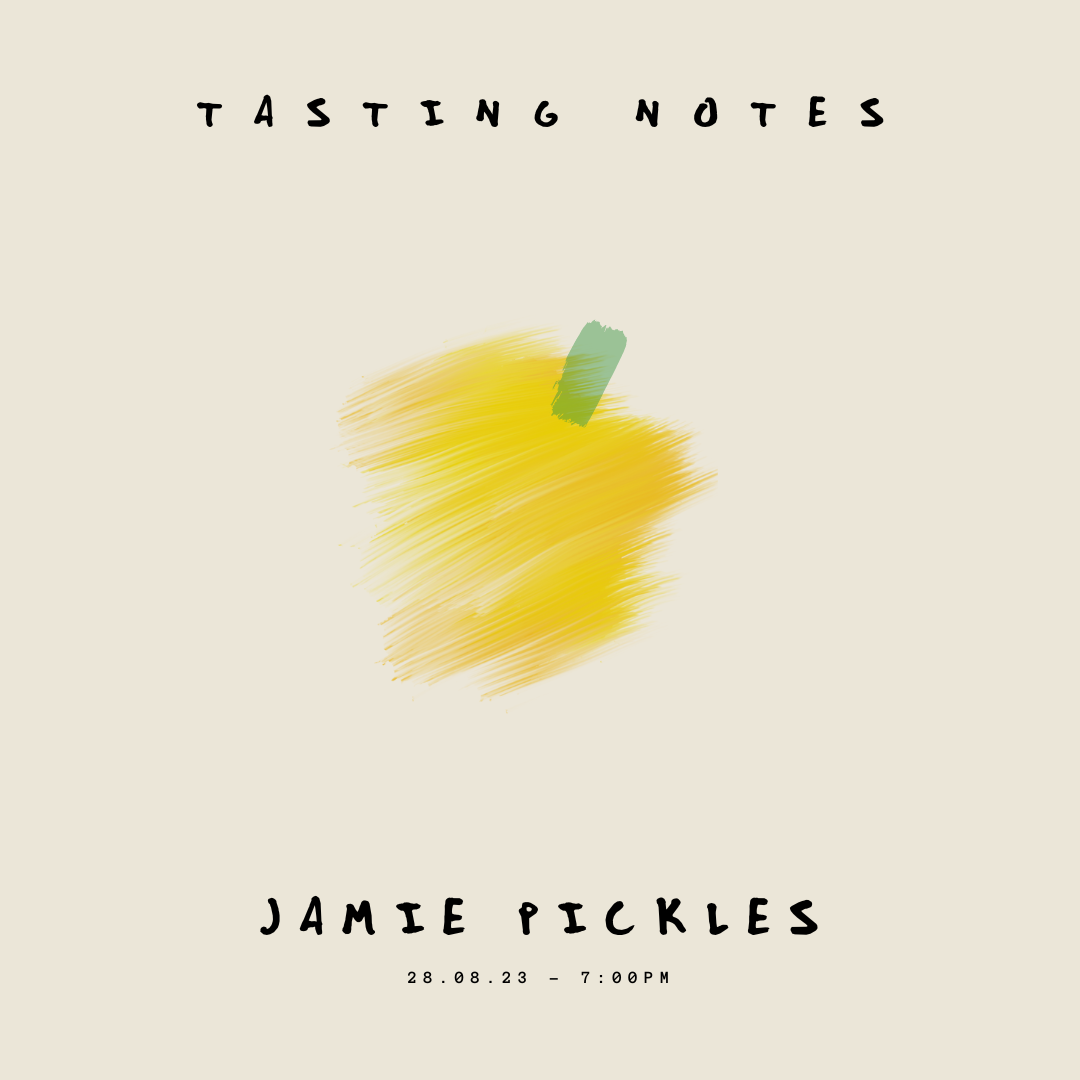 T A S T I N G * N O T E S
Aug 2023
ONE CHEF. ONE NOSEY PARKER. ONE EVENT TO STICK IN THE DIARY.
Interviewer – Comfortable?
Jamie – (Ahem. Clears throat).
Interviewer – Ready?
Jamie – Born ready.
Interviewer – Please state your name, occupation & where your from for the record…
(BOTH BURST OUT LAUGHING)
Jamie – My name is Jamie pickles – I am a chef & I'm from Bakewell.
(BOTH BURST OUT LAUGHING)
Interviewer – A Chef called Pickles from Bakewell? Incredible. Tell me Jamie what made you decide to become a chef?
Jamie – Genuinely just a pure passion for food – A huge love & desire to cook.
Interviewer – Generic question I know – But what's your favourite thing to cook?
Jamie – Honestly – Anything to do with spaghetti.
Interviewer – Really? That's not what I expected. I mean – rate it. Okay – What's the worst thing you've ever cooked your fiancé?
(LONG PAUSE) 
Interviewer – Come on there must be something you've made, that's been sent back.
Jamie – I don't think I've made anything bad…
(BOTH BURTS OUT LAUGHING)
Interviewer – Right lets get down to the nitty gritty – Tell me – What's all this gossip about Tasting Notes?
Jamie – I'm hosting a night at Trof named 'Tasting Notes'. It's a five course, drink paired experience exploring seasonal produce. Celebrating what amazing ingredients this time of year brings. Enjoying crops coming from the ground, growing on trees – that's all at our expense from our local – humble suppliers & neighbours.
Not only that – But as professionals showing what were capable of. Pushing Trof's boundaries & sharing some great food & drink but with OUR personality. No stuffy restaurant setting – No wanky atmosphere – Classic. Tasty. With some surprises along the way.
Interviewer – This sounds great – Trof but a completely different experience. When – How much?
Jamie – Tasting notes will take place on Bank Holiday Monday – 28TH August – 7:00PM. It's a ticketed event which sits at £60 per head hosted on our Bourbon Bar.
Interviewer – HOW do we book?
Jamie – To book – You just need to throw an email to Amy@trof.co.uk & we'll take care of the rest.
Interviewer – Perfect, Thanks for taking some time to walk me through your event.
You've heard it here first folks – get this in the diary & be the first to experience a private event with Jamie Pickles ft. Trof.